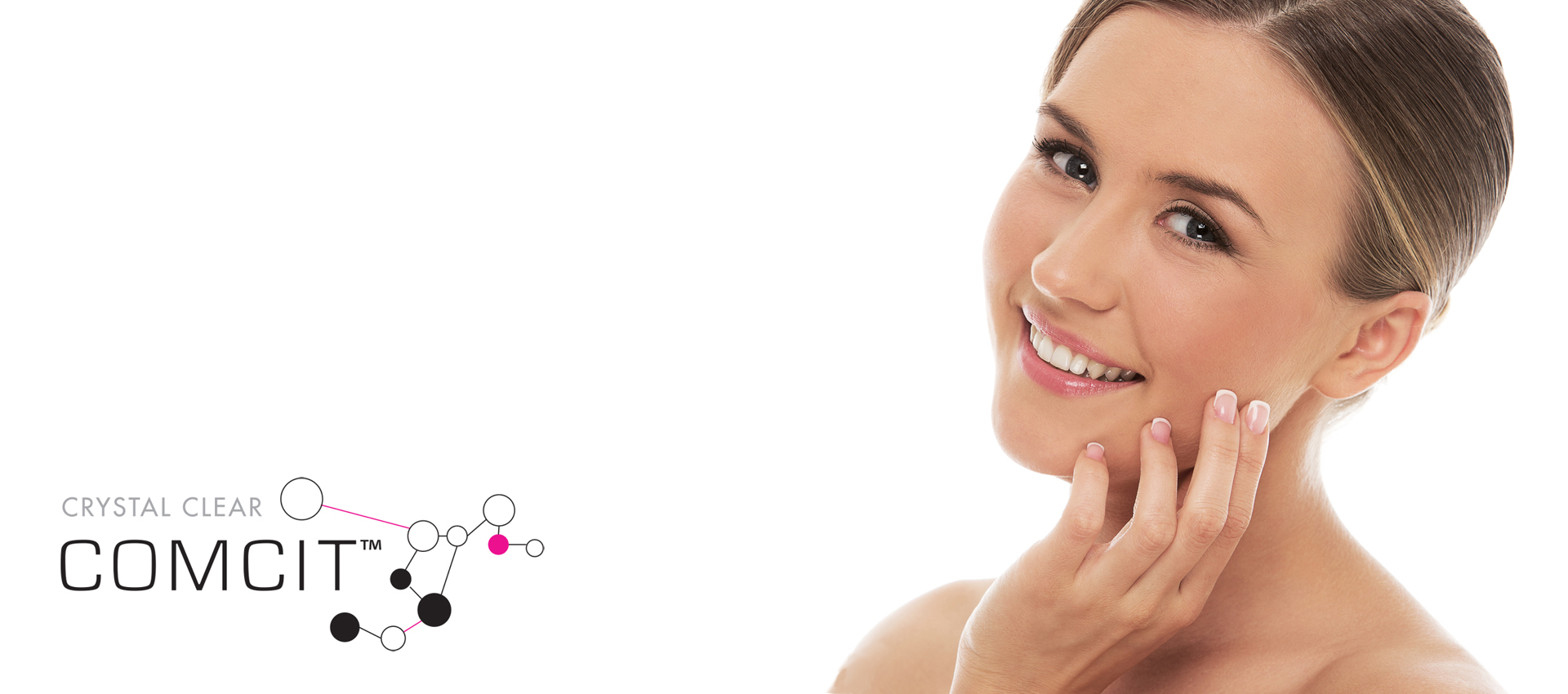 We are delighted to be able to offer COMCIT™ – Crystal Clear's most intense skin rejuvenation treatment yet. A cutting edge, futuristic treatment which takes skin rejuvenation to the next level, effectively tricking ageing skin into acting young again.
COMCIT™ breaks through the barrier to more youthful skin. This remarkable method uses Oxygen, Micro-channelling & a Rejuvenation Infusion right where they're needed, prompting new collagen production at a cellular level renewing the skin's resilience and firmness.
The treatment is painless with no downtime and the results are instant and exceptional!
COMCIT™ employs four simultaneous modes of action:
Cry-Oxygen – to cool and oxygenate the skin
Micro-Channelling – The Micro roller creates hundreds of tiny microscopic holes in the skin creating channels for the powerful rejuvenation actives to take effect
Topical Infusion of Active Rejuvenating Ingredients – to push active anti-ageing ingredients into the deeper layer of the skin
Oxygen infusion – to soothe and restructure the skin

COMCIT™ is an ideal treatment for:
Ageing lax skin
Lines and wrinkles
Sun-damaged skin
Acne Prone skin (particularly effective due to the anti-bacterial effects of both oxygen and infusion)
Acne scarring
Pigmentation
The Benefits of COMCIT™:
Stimulates Collagen at a cellular level
Delivers deep penetration of our active Infusion plumping and smoothing lines and wrinkles
The most advanced method of replacing lost moisture to the skin
Provides oxygen to all levels of the skin
Allows the entire face and neck to be treated in a single session, with particular attention paid to your areas of concern
You can see the difference after the first treatment. For totally rejuvenated skin we recommend a course of 6 treatments at fortnightly intervals.
CRYSTAL CLEAR COMCIT™ THERAPY 60 MINUTES – £75
COURSE OF 6 TREATMENTS – £375
Introducing Crystal Clear Oxygen Therapy – Breathe life into ageing skin
As we age the oxygen levels in our skin naturally decrease, leaving it less elastic and allowing fine lines to appear. This treatment replenishes the lost oxygen and the active ingredients used in the serum restructure the skin visibly plumping out lines and wrinkles. It is the perfect choice for acne conditions due to the anti-bacterial effect of the serum – potential scarring is reduced and the build up of bacteria within the skin is diminished.
CRYSTAL CLEAR OXYGEN THERAPY 45 MINUTES – £60
COURSE OF 6 TREATMENTS – £300
For optimal results enjoy a gentle exfoliation with Crystal Clear Microdermabrasion as a preparation treatment to COMCIT™ or Oxygen therapies. This is a controlled method of skin resurfacing that takes years off your complexion.

CRYSTAL CLEAR COMCIT™ THERAPY WITH MICRODERMABRASION 75 MINUTES – £85
COURSE OF 6 TREATMENTS – £425
CRYSTAL CLEAR OXYGEN THERAPY WITH MICRODERMABRASION 60 MINUTES – £80
COURSE OF 6 TREATMENTS – £400